Envision – Seeing Beyond Digital Magazine
An experienced editorial team delivers top-notch information on subjects that help optical professionals in their day-to-day work.
Topics include the latest news on lenses, frames, contact lenses, fashion trends, medical developments and marketing strategies for the Canadian optical industry.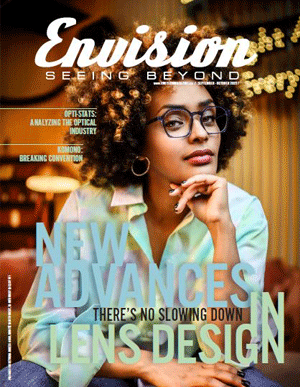 Annual Lens issue
Freeform technology is allowing the development of many exciting lens technology advances. And the pace of improvement in lens designs keeps quickening. Improvements in lens designs and treatments provide real benefits to the millions of Canadians who depend on corrective lenses for their daily activities. In our annual special lens feature, we bring the most significant new developments to light.
4660, Montée Saint-Hubert, Saint-Hubert, QC, J3Y 1V1
450 629-6005 | Fax: 450 629-6044
envision@bretoncom.com
www.bretoncommunications.com

PRESIDENT/PUBLISHER
Martine Breton
martine@bretoncom.com

SENIOR EDITOR
JoAnne Sommers
Tel. 250 469-4350
joannesommers@shaw.ca

EDITOR-IN-CHIEF
Paddy Kamen
Tel. : 778 363-3405
paddykamen@gmail.com

ASSOCIATE EDITORS
James W. Ahola
Dr. Netan Choudhry
Jennifer George
Brian P. Dunleavy
Shirley Ha
Margaret Osborne
Evra Taylor

SPECIAL ADVISOR,
CONTACT LENSES
Joshua Josephson, Bsc, OD,
FAAO, FACLP

SUBSCRIPTION
INFORMATION
envision@bretoncom.com

COPY EDITOR / RESEARCHER
Omar Chraïbi
editorial@bretoncom.com

MEDIA/ADVERTISING COORDINATOR
Vanessa Pelletier
advertising@bretoncom.com

DISTRIBUTION ASSISTANT
Vanessa Pelletier
support@bretoncom.com

GRAPHIC DESIGN
Marco Gagnon
design@bretoncom.com

ADVERTISING
Martine Breton
martine@bretoncom.com
1 888 462-2112
Tél.: 450 629-6005
Téléc.: 450 629-6044

PRINTING
Miromédia

Published six times a year

Legal deposit
National Library of Canada
ISSN 1925-8801 (Print)
ISSN 1925-881X (Online)

Canadian Publication Mail
Product convention
NO 40052210
Postage Paid in Quebec

Any reproduction, in whole or in
part, of the herein publication, is
strictly forbidden, without the
written authorization of the
publisher.

Printed in Canada