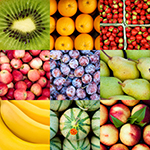 January / February
Nutrition and the Eyes
Modern nutrition science has learned a great deal about how vitamins, minerals, fats and other nutrients can help to ensure optimum vision and even protect our eyes from disease. We'll review the latest research and interview experts for the most up-to-date and useful tips.
***
---
March / April
Sunwear
Sunglasses continue to be a key fashion signifier, while also providing much-needed protection for all kinds of outdoor activities. Let's see what's jazzy, sexy, sporty and protective in sunwear for 2016.

***
---
May / June
Exciting Developments in Vision Science
Incredible gains are being made in vision science. This feature explores new intraocular lens developments, gene therapies for degenerative disorders, retinas created from stem cells, and much more.
***
---
July / August
Kid's Eyewear
Children know what they want in eyewear and manufacturers are speaking to them with an amazing array of vibrant, stylish frames. We'll cover the leaders in this issue.
---
September / October
Lenses
Lenses change lives and this special issue looks at always-interesting new developments in lens design and materials.
***
---
November / December
Fashion Eyewear
From cutting-edge designs to über-savvy sophistication, fashion trends in eyewear are more expressive than ever before. In our most fun issue of the year we sing the praises of fashion for the eyes.
***